At Sweet we love to chase the snow!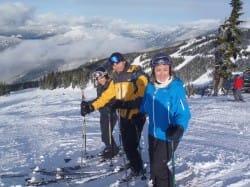 After a brilliant season for Jason and Jon in New Zealand (see our World Tour of New Zealand news feed) it was Dave's turn to find early season snow. With nothing on the horizon in the Alps, he headed out to Whistler with one of his clients and good friend Jackie Kennedy. Conditions were brilliant and as the resort slowly opened, over 150 cm of powder fell through the week. Jackie will be returning to Meribel in January for a week if piste to powder, steeps and moguls!
Back in the Alps and it was time to head to the Tignes Glacier where the Snowheads forum was hosting its Pre Season Bash.
Sweet delivered a series of workshops covering off piste and mogul technique as well as private lessons. Although conditions were limited, the weather remained perfect and snow quality was superb. Thanks to all who organised the event and the 120 snowheads who took part in this brilliant week! Sweet will be back in late April for the Snowheads End of Season Bash that takes place in Val Thorens in The Three Valleys
After an anxious start to the season with the snow waiting till the last minute to arrive, it has been dumping in Sweet's home in The Three Valleys. Jason has been busy delivering a Level 2 Instructor Course for the British Association of Snowsport Instructors (BASI) in Courchevel.
Jon began the season with the fantastic news that he has been selected by BASI to rookie an instructor training course and be considered to work for them as a Trainer. This elite accolade is shared by only a very few of Britain's top instructors.
With the snow continuing to fall and over half a metre forecast for Meribel and Courchevel this week, its all looking very Sweet for Christmas and the New Year.